Je suis un Musiconaut, plus précisément un Electro-Musiconaut.
Créateur de paysages et de voyages sonores, à travers le projet web Mixonaut, à travers mes expériences en radio en tant qu'animateur, technicien, archiviste, discothécaire et surtout à travers mon parcours de DJ depuis le début des années 90.
Ces voyages, je les partage.
Trance-en-Danse : Heyoka (Paris, 1991-1998)
fin 1990-1991 : Warm-up sur la Péniche Delo avec Trance Body Express (jusqu'en 95, avec Dj's Yayo & Serge)
1992 : sous le nom Dj Heyoka, warm-up à T.B.E.


Tekno Tanz (Rakham), et fêtes au château de St Valery-en-Caux (Normandie, Sylvain + Michel Mullender).
Top one : fête de la musique à la maison sur pilotis de Gyf-sur-Yvette.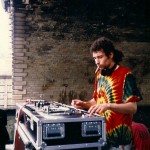 1993 : Warm-up à T.B.E., Borealis 1 (Pinguins, Montpellier) en août,
mixes réguliers sur Radio F.G. + émission « Midnight Booster » (sept. à déc.).
1994 : Membre de Outsoon Booking France (1 an) à sa création,
signature Heart of Earth sur les flyers (94 à 96).
Sets à Paris (T.B.E., E+, Tekno Tanz), Toulouse (Creative Action, J.Rob), Montpellier (Dragon Force), Bordeaux. Environ 50 dates.
Top one : El Rachdingue (Figueras, août) avec Fred Tassy, Yayo & Serge.
Premiers sets Ambient en Chill Out.
Chroniqueur de disques dans magazines Coda et Outsoon (94 à 95).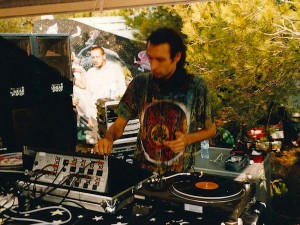 1995 : Sets réguliers au Rex Club (UAM + Trans'It de T.B.E.), Montpellier avec Maori's Tribe (95-96, Montpellier).
Env. 40 dates. Top one : Rex'pect for Trance #14 (UAM – 14 mai), set all night long !
1996 : env. 40 dates. Futuria et Oxygen (Grenoble), Androïde et Underdome 2 (Paris)
signatures : Heart of Earth, Happy People at Work (Max LSG, 96-97, Montpellier), Pof Music (96-98)
Projet Flying Sticker (96-97 avec Chistophe Marcourt aka Joking Sphinx, 4 tracks sur Pof + 4 unreleased).
Cd Mix : Cosmic Trance 2 sur Distance.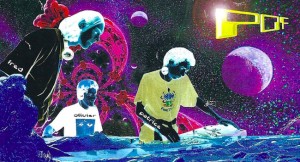 1997-1998 : env. 50 dates. Assistant-manager à Pof Music (le label de Fred Giteau) : développement d'artistes, singles, line-up des tournées compilations Nataraja 2 & Electro-Psychedelic Trance (Munich, Barcelone, Bâle, Hambourg, Londres, Manchester).
Trance-floor Pof des Magic Garden (Xaintrie, Paris) – Techno Parade 98 (Paris), D-Mention 1& 2…
mixes pour Pof sur Radio F.G.
Playlists régulières entre 1994 et 1999 dans Coda, Outsoon, Zipper ou Tracks.
1er déménagement à Montpellier (août 98)
1999 : Tribalistik avec D.c.e.a. Org. (Perpignan, Bob Saggart & Alex Escalofrio),
La Cova & Cyberian Club (Barcelone), Le Liquid Sky (Figueras, 26 06)
Interlude : Jimi Frisko (1999-2000)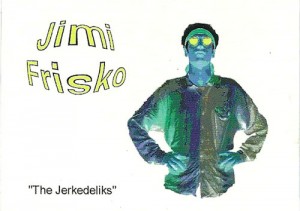 Progressive & Psychedelic House, West Coast,
Montpellier et Toulouse, 1999 : Glück Family (Guy L'Amour) + Arcadys (Franck de Villeneuve),
E3 Concept (Alex Escalofrio, Montpellier, 99-2000) : La Villa Rouge, Le Souleil. Agence Equinox (Toulouse, 2000-2001).
« Astero-Dj » avec Les Asteroïds (Paris, 2000-2001)
sets adaptés à leurs diverses déambulations-performances.
San Sebastian, Istambul + Tournée POP (Londres, Berlin, Hambourg, Munich, Francfort). Crash Test, Pantin (nov. 00), cloture Le M.i.l.i.a., Cannes (févr. 01)
Patrice Heyoka (depuis 2001)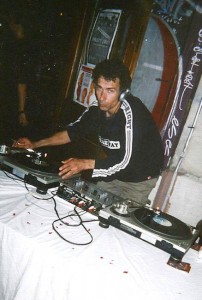 2ème déménagement Montpellier (oct. 2001)
Djing : Pumpydelik Tribalistik avec er.tomic, DiProgress (2001-02), Le Mix Koffee (Adil, 2002-2005). Le Comptoir (Marie Cécile, 2004-2007 easy-listening), Start XXI (Adriel Revel, 2007)
2008-2010 : Blah-Blah Bar (avec Sylvain Guez & Pedro)
21 03 2009 : Crespy Ritual Trance 2, Montpellier
Radio Clapas
2002-2004 : Auteur & Animateur de l'Ébullioscope (divertissement insolite).
2004-2008 : Technicien Régie (directs, pré et post prod, logiciel de diffusion-continuité d'antenne) + Archiviste + Discothécaire (10.000 Cds)
2008-2010 : reprise de L'Ébullioscope en version sketch (Sacd, 100% auteur)
2010 : Début d'élaboration de projet de plateforme musicale personnelle (merci à Adrien Revel)
Sets à Paris :
2012 : Alien Factory (Rakham, avec Yayo & Total Eclipse, Gibus)
2013 : Old School But Good School #11 (4 Elements)
2014 : collectif Trancinetik (O.P.A., Péniche Cinéma)
depuis 2015 : site web sur WordPress (merci à Franck de Villeneuve)
2015-2016 : Exolab, sci-fi mix + Vj Aurel (Trancinetik)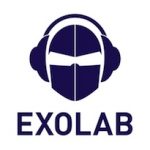 Tilt Festival (El Mediator, Perpignan) + 2 clips Electronaut Mission (Youtube, Vimeo). Sessions ElectroMusiconaut
2016-2017 : Retro-Goa Beach Party (Tel Aviv) – L'Officine 2.0 (Rakham, Paris)
Le Manoir 2018 et 2019 avec Trancinetik
sur Radio Clapas : Émission Mixomatic,  2 saisons 2015-2017 + Heyoka Time 124, 2018-19